"Hear the Future Today™" is not just a slogan, but a promise from the heart of Ohio to your palm.
The Zisk-7000 is the epitome of American ingenuity and is the first cellular telephonic system to be fully designed and manufactured right here in Ohio.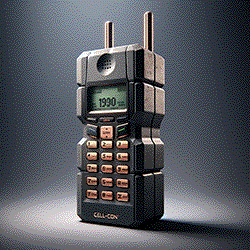 Our flagship, the Zisk-7000
The Zisk-7000 isn't just a mobile phone; it's 1995's most needed device - a reliable companion for the on-the-go professional, the busy parent, or the adventurous soul. Its dual-antenna design ensures crystal-clear communication, eliminating the dreaded dropped calls and bringing voices across any distance with impeccable clarity.
But what sets the Zisk-7000 apart in the bustling market of 1995? The answer lies in its revolutionary magneto-pyrite battery technology. This state-of-the-art power source is engineered to keep you connected longer, charge faster, and deliver unmatched durability that withstands the demands of daily life. Say goodbye to the constant search for power outlets and the frustration of phones dying at the most inopportune times.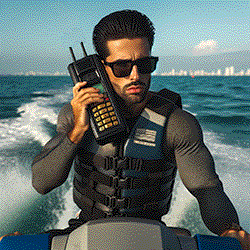 Your go anywhere do anything device*
Join the communication revolution with Cell-Con's Zisk-7000 and experience the freedom of connectivity like never before. It's more than just a phone; it's your lifeline to the world. Get ready to hear the future today with Cell-Con, where innovation meets practicality.
March 3, 1998
Elizabeth,
If you have found this message then I fear all is lost and my latest financial adventure has come to naught. When we first came to this grotesque little town, I had every intention of building one of the most powerful technology companies in the world, developing technology that could be made cheaply and quickly right here in Ohio, the first cell-phone company for the common man, powered by a mineral considered unimportant or even useless. But both federal and state regulation have made it extremely difficult and the explosion in 1993 and the green cloud that followed brought unwanted scrutiny to all of my business dealings.
Even after recovering from that very public debacle and investing in Question Park with the hopes of altering public opinion and opening up additional revenue streams, it seemed tragedy was to follow us again and again. The poultry business was a failure, animals at the petting zoo were getting sick, patrons kept getting hurt at Question Park.
I had thought that becoming mayor in January would buy us some time and the opportunity to end some of these ongoing investigations. But I was wrong. The cell phone plant has continued to lose money. In February, I approved substituting a substance called 99-Bromine in our cell batteries in order to cut costs, which I was able to import from Eastern Europe at a steep discount. Days later there was a spill, which left twenty-four people who happened to be near the factory comatose. Some still have not awakened.
In the days following, state regulators appeared and cited Cell-Con for improper disposal of hazardous materials and the use of a non-approved chemical substance. The fines are utterly exorbitant. I am now certain they intend to end Cell-Con and my political ambitions once and for all.
But your Thompson has a plan. I have created a shell company, APEX, in order to handle the waste disposal problem, and I am hopeful, with my connections as mayor, that this particular problem will be buried for a very long time.
For your protection, for our future, I have sold off our shares in Cell-Con and have invested them in a number of other potential opportunities including a start-up in Raleigh, North Carolina called Foreverland and a soon-to-open bridal dress factory here in town named Something Blue.
Now all that is left is to free ourselves of this wretched factory and this wretched town and anything that links us to this endless string of disappointments. And, of course, I have a way to do just that.
Remember: you are the match and I am the spark and our love is an endless flame burning always against the dark.
Always,
Thompson









The only cellular phone with high-end brass-like keys
Get Yours Today for the Low-Low Price of $1,851.00
Want to SAVE even more on your Zisk-7000? Dial up the dynamic world of the Cell-Con Cell Network, where cutting-edge telephony meets the empowering potential of self employment. By building your Cell Network, you not only enjoy significant savings on the Zisk-7000 but also invite your friends and family to join in the savings and innovation. As you recruit loved ones into our network, you amplify your impact and theirs, creating a community of connected pioneers all while building your own telecommunications legacy and financial stability. Build your Cell Network and Hear the Future Today™!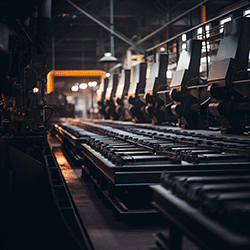 Our state-of-the-art facility right here in Ohio!
* Artists rendering, it is not recommended to operate the Zisk-7000 near water